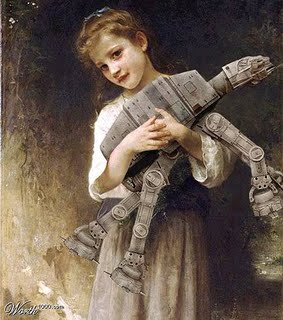 The
conference
is officially over now and after a few days of reflection I can say it was a brilliant return to form, from the smaller days of
San Jose
when a close knit group of audio people stumbled from the Fairmont into the wild fueled by discussions of Sound Design, Interactive Music, and Implementation Madness.
The
presentation
that David Collins and I did went really well, our combination of creative vision and technical knowledge really helped keep things entertaining during what could have been a dry recounting of challenges and our particular solutions to the Physics Sound conundrum.
What I am constantly reminded of at GDC, is the idea that usually those of us in the community are all working towards solving some of the same problems in parallel. You get the great insight when talking to other Game Audio heads that there is no right way, and you are limited by your creativity, memory budget, and programming resources. During a console generation where we are still striving toward bringing the best experience to the player, we need to all try and remember to focus on Sound and Systems to support the game that is emerging from development.
I think we had it easy on The Force Unleashed, this was a game that was all about kicking ass with the Force. The expectation is that the big stuff would be really big, but I'm also glad we spent time making sure that the fidelity was there for when the player lets off on the gas pedal.
To anyone out there wrestling with the game Audio puzzle, know that there are dedicated and passionate people in the world working hard to do great and artistic things for our medium. I was lucky enough to meet a few down in Austin this year.
For a brief and accessible overview of the Physics sound refer to Jesse Harlin's majestic
article
from Game Developer Magazine where he outlines each of the systems, and some of the challenges we faced.
If you weren't on the Ground in Austin this year, and are interested in the slides from the presentation which present a deeper understanding of the technical side of each of the systems...you can grab them here:
Sound Wars: The Physics Unleashed - Presentation Slides
The example video's highlighting the different systems and material types can be found here:
Keep dreaming it,
-lcl